Therapy
Examination by rheumatologist doctor:
Tuesday: 9.00 am. - 11.00 am .Dr. Ildikó Képes

On 11.August the examination don't operate! Thank you for your understanding!
Limited number of patients! Please your understanding.
Medical treatments
In the therapy section, which opened in May of 2005, our guests can use various services: some of them are only available for guests with medical prescriptions, but we also provide certain services for those who don't have prescription. In the bath, there is a surgery, where one can visit the rheumatologist once a week. In the therapy section there are 12 massage booths and 5 underwater massage tub. There are also 3 tubs with curative water for those who won't be going into the pools. There are 9 beds for mud-pack as well. The underwater massage, the weight bath and the tub treatment last for 15 minutes, the mud-pack for 20 minutes.
In the weight bath there are hangers for 8 people and an elevator to assist any handicapped visitor to enter the pool. At medical hot water pools are available an elevator to handicapped visitors also.
The guest can ask medical massage for 15, 30 and 50 minute.
Treatments:
01 Medicinal bath
02 Medicinal tub-bath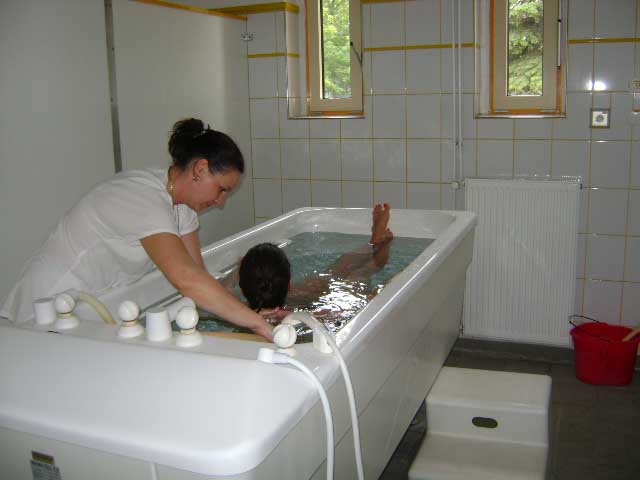 03 Mud-pack
Mud-pack is a special form of balneo-therapy. The mud, which contains organic sulphur in large quantities, increases positive chemical and physical effects. It is a special material which has a very slow thermal uptake and dissipation. The thermal adjustment of the warm mud is usually 42 °C. It improves the circulation, replaces the missing minerals in the organism. The mud-pack treatment may be given only with medical prescription.
04 Weight bath
This is a method of treatment and prevention for spinal- and lower limb arthritic problems in 34-35 °C water. The weights are placed on the ankle and on the waist, while the patient is hung, thereby the straight parts are the spin are stretched, and the muscles and the joints of the foot are relieved. The weight bath treatment may be given only with medical prescription.
05 Effervescent bath
During the treatment carbonic acid is let into the tub, so the tiny bubbles improve the carbon-dioxide saturation of the skin. The heart action slows down, blood pressure decreases the load on the heart. It has amazing relaxing effect.
06 Medical massage
07 Underwater massage (tangentor)
Underwater treatment, jet massage that is practical with thermal or medicinal water but tap water is also suitable. The water-jet directing to the right place improves the blood circulation, gives massage to the muscles, releases the stuck issues, regenerates the state of the skin and improves the well-being.
In 2017 and 2020 received our bath the quality certificate EuropeSpa Med of ESPA officially: